Maurizio Sarri is a former statistics student and current Napoli coach whose quotes make him easy to pull for. Last year at Empoli he had his tiny team playing like big boys. In a cluster analysis I ran Empoli showed up alongside Manchester United, Roma, Spurs, Juventus, PSG, and other teams one of the poorest teams in Europe had zero business being among. He and Eduardo Berizzo (Celta Vigo) became two managers I greatly respected simply from computer scouting. Watching their teams certainly confirmed that opinion. Sarri the stats-man has also helpfully provided the checklist he looks for when he analyzes his team (he also has mentioned deep touches as a stat he looks to judge performance on in his post-game interviews). We start with Napoli in our look at the early going in what should be a fascinating and enthralling season in Serie A.
Vertical passes played from midfield to forward
When it comes to chances created originating in midfield, Napoli is running away from the pack. They have 40 and 2nd place has just 30. For this we can give Sarri and Napoli a check.
This doesn't mean Napoli rely solely on midfielders playing long passes to forwards to create something, no team plays a shorter average pass to enter the final 30 yards. This implies if the quick long strike isn't available, Napoli get players forward and play short passes to attack. To show how they do use long vertical balls to create chances here is a map of every chance created by Napoli (blue) vs Juventus (black) where a pass got the team 10+ yards closer to goal. The difference is pretty stark.
High defensive line
Napoli's opponents average pass is played further from goal than any other team in Serie A, up from 4th last year.
3. Defenders get the ball to their playmaker The midfielder Jorginho leads Serie A in passes/90 with 107. Last year he averaged 77.5 per 90.
Now this is nice and reflects very well on Sarri getting the players to fit his ideas but doesn't tell us if his checklist is actually leading to performance and wins. They are a very good team but haven't made a huge leap from last season. They are getting the ball in front of goal and keeping opponents from getting in front of goal at similar rates to last season. Shots and shot quality are reasonably similar. The ends have been similar despite means changing. A few more examples of means changing: the high completion % allowed in the final 30 yards. Last year under Rafa Benitez, no team was tougher to complete passes against than Napoli, this year they are easier than league average. Maybe this is just a transition period to Sarri's eyes-on-ball approach, but it's more likely a feature of his system to not have stiflingly low rates close to goal as Empoli's main weakness was also how easy it was to complete deep passes against them (partially why they linked up with PSG and Manchester United in the cluster analysis). Napoli press much higher than they did last season which unless you are Bayer Leverkusen or Bayern, makes it tough to totally shut down the opposition close to your own goal. There are always tradeoffs in tactics. The effectiveness with which Sarri has changed the teams style to reach his stated goals make me confident he is more likely to take this team to a higher performance level as the season goes along. Right now they are probably still a step behind Roma and Juventus but it's not too far. It will be exciting to see how they evolve. Juventus, still the best? Short version: probably yes. Long version, showing my work: Juventus are taking the most shots, spending nearly the most time in front of goal ("Red Zone" in my Americanized lingo), and taking the most shots from inside 10 yards. They allow the 2nd fewest shots and the 2nd fewest Red Zone completions. They still have the strongest claim to be the best team in Italy right now. Things are not completely fine: they have slipped a bit in terms of shot quality. In 13/14 and 14/15 Juve forced the longest average shot in Serie A, now they are just 15th. The passes that get their attack reaching dangerous positions are coming from crosses a bit too often as well. The teams crossing more than Juve are Atalanta, Carpi, Chievo, Palermo, Udinese, and Verona. Not great company for a title contender. These aren't crippling slips but Juve is already 10 points behind and the the margin last season was much finer between Juve and the rest of the league than the table portrayed. Their shot and territory numbers were never near Bayern/PSG levels and the preseason title odds of around 60% reflected the fact this wasn't a true runaway league. This similarity in top teams talent combined with the early season dropped points from Juve is the reason Italy is set up for the best title race in recent years. I'd guess that no league in recent times has had 5 teams at above 10% odds at this point in the season and that no league has had a "favorite" at just 31% to win the league.
Just look at that. The normal European soccer complaint that you know the teams that will win the title is totally out the window here. It feels open like an NBA season, not a soccer season. Current Favorite
The current favorite is not Juventus. Leaders Fiorentina are not favorites either. It is 4th place Roma who the bookies tip by a hair to win the title. Roma have cranked up their offense significantly from last season. They are way out in front of the pack with 7.1 shots on target per game after taking just 4.6 last season. This is not because of an unsustainable touch-to-shot conversion rate, it's mainly fueled by simply spending way more time in front of goal.
This is an enormous change. A chunk of it comes from a single game where they completely dominated territory against hapless Sampdoria (and lost in the final seconds) but there would still be a 6 completion per game rise without that 55-completion game. Last year they didn't have any games with at least 50 completions in the final 30 yards. The big individual riser in the shot category comes up front where Dzeko has taken 4.6 per 90, 3.2 inside the penalty area. Last season no one took more total shots than Totti's 2.7 and Ljajic's 1.6 per 90 was the teams leader inside the box. As you'd expect with such a rise in shots, there are lots more players chalking up >1.5 in-box shots per 90 and >2 key passes/90.
This year 27% of Roma's passes come within 45 yards of goal, last year it was just 19%. This can partially be explained by their increased pressing, they break up opposition-half passes right near the top of the league this year, leading to better field position to start their attack. When you don't have to make 3 or 4 passes to bring the ball up the pitch, it's easier to get into dangerous positions. That's not the whole explanation and there are other telling signs (both more aggressive passing and more accurate passing moving into the final 45 yards) but a more thorough analysis certainly beckons if Roma continue to play like this. Opposites in Milan Last year the two Milan teams finished close to each other in the mid-table but played nothing alike. Inter played like some of the best teams in Europe in many categories, while Milan often played like legitimate relegation candidates.
The fact they had similar odds in preseason was one of the rare total misses you'll see in the betting markets. Inter now have the 4th best title odds, just barely behind Napoli. They are pressing high, getting the ball deep, keeping teams from seeing much of goal and pretty much doing everything they did last year, just seeing better results points-wise. They have a similar look as far as territory dominance to Napoli but haven't been quite as impressive when you look at the nitty-gritty. Inter get nearly twice as many of their deep completions via cross while Napoli are less reliant on the least effective attacking tool there is. I'd say this is the one place where the bookies might be wrong, Napoli should be valued a bit more highly than Inter. I say this hesitantly, knowing that in general you should look to the bookies when rating teams. Most of us stat guys are not millionaires yet from beating the lines, always remember that. Milan, poor Milan. At least they have improved slightly. Last year they had the 19th most deep completions, now they are up to 16th. They have the 16th fewest shots from inside 20 yards (only 2 ahead of 19th) and they still can't get the ball to the center of the pitch at all. They aren't even a league-average side. The league leaders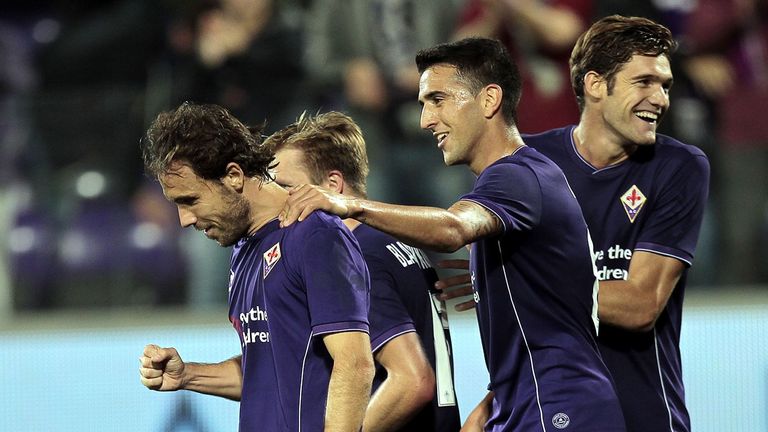 Fiorentina lead the league and have the best SOT rate. They have the 5th best title odds right now, around 10%. How do those two things make sense? A lot of it is their early season schedule has been very soft, with games against Carpi, Bologna, Milan, and Atalanta. They also haven't put up stunning shot totals against those teams: 6th most total and 10th in shots inside 20 yards. They've been great at stopping opponents from coming upfield and taking shots, but defense is much more opponent-dependent than offense. Without an overpowering offense and with a defense yet to come through the fire, I can't sign off on Fiorentina being any better than the bookies skeptical take. Other Bits Torino have started really well with their patented mix of passing backwards in their own half a lot (27% backwards pass rate there is 3 standard deviations above league average), and heavy central focus (2nd in league, actually a bit down from last year). A 6th place finish certainly seems feasible if a bigger team in front falters… Sampdoria were in Europa League qualifiers this year after last years 7th place finish and got crushed 4-0 at home by Serbian side Vojvodina. Things haven't got better in the league. Sampdoria have allowed 27 completions inside 15 yards from open play. The next highest is 16. Their attack is near the bottom when it comes to deep completions as well. They've taken the 18th most shots and allowed the 2nd most. They are currently playing like a team who deserves to be relegated. Last year says they probably won't keep doing this but it's ugly right now. One factor that might explain some of their underlying numbers is the fact they have bunkered their way to good results against top teams. Napoli, Inter, and Roma all completed 40+ passes inside 30 yards against Sampdoria (a feat which has only happened in 2 other games in the entire league) but Sampdoria got 5 points from those matches. Maybe they are just fooling the underlying numbers by West Hamming it and trying to concede 85% of the pitch but stop high quality shots? At least they have that bad-ass logo… Frosinone are playing like relegation favorites but they have that Burnley-esque attacking verve plus openness at the back that is nice to see. Games involving Frosinone see a staggering 36.7 shots per game. League average is just a hair above 26… Lazio are basically a poor man's Fiorentina at this point. They have less impressive numbers boosted by a weak schedule but got hammered by Napoli in their one big game. You'd back them to finish top 6 but not compete at the top. Bonus Sarri love is this great set piece goal (goal #3) that uses an off-ball screen to free up Mertens for an open shot. https://www.youtube.com/watch?v=GtY8Yok7IiY