The New Guys Freiburg won the 2. Bundesliga with 75 goals last season while RB Leipzig averaged just 46 goals in their 2-season stay. Looking a bit deeper, we see the gap was not as large as Freiburg's extra 14 GD showed. Leipzig had a better SOTR with 5.7 for to 3.1 against with Freiburg at 6.0 for and 3.8 against. Of course Leipzig have shelled out on some very eye-catching transfers so have earned the higher expectations but Freiburg come up as the champs. Freiburg
Two names to watch that had enormous numbers last season. The first is Vincenzo Grifo, the 23-year old who had .5 goals and .4 assists per 90. In his only previous Bundesliga action back in 2013 for Hoffenheim as a 20-year old he had 6 shots and 8 key passes in 3 90s played while going 101/124 passing. The second is Nils Peterson who has consistently put up around .5 goals per 90 throughout his career at Werder Bremen and now Freiburg. Their 75 goals last season, those two players track record, and their teams solid attacking numbers 2 years ago in the Bundesliga make me think they will score plenty. No team had a higher SOT% in 2014-15 than Freiburg (something that has some repeatability)
and they had the 7th most deep completions in the league, suggesting an engine capable of creating chances even if they didn't pile up the shots at a commensurate rate. The problem was the defense, which allowed 200 shots on target, more than anyone else in the league. They actually bowed up respectably around goal, but couldn't stop opponents from coming down the center and reaching the box. I have no idea if they have fixed that but it is #1 on early-season checklist for Freiburg, if they can play well defensively in midfield I like them to surprise by earning safety somewhat easily. RB Leipzig
The reason they are comfortably mid-table and a Europa challenger in the odds are the 3 big additions. The biggest player addition is Naby Keita for 15m from RB Salzburg. He's been written about here in very, very glowing terms and now it turns out he probably turned down Arsenal to come to Leipzig. The other player addition was Timo Werner for 10m. Werner was a shot-quality king last year for Stuttgart and is just 20 years old. He took 2.6 shots per 90 at an average of 13.2 yards, good for 6th in the league, while only taking 28% headers.
He's struggled to finish the consistent good shots he's generated but you'd rather have that than a 20-year old striker who converted a few long shots and is hoping to add gets good shots to his resume. The third addition is Ralph Hasenhüttl, who was my Coach of the Year last season at Ingolstadt. He fits in nicely with the Rangnick philosophy and should ensure Leipzig won't go down because of too many goals conceded. Hasenhüttl's defense was enough to have Ingolstadt hang around the Europa League spots for a while last year, that alongside some dazzling talent means it would be disappointing for Leipzig to not at least do the same this year. Köln
In: Sehrou Guirassy 3.8m (Lille), Marco Höger 1.3m (Schalke), Konstantin Rausch Free (Darmstadt), Artjoms Rudnevs Free (Hamburg) Out: Yannick Gerhardt, Kevin Vogt A little bit of Italy mixed into the Bundesliga. The lowest-pressing team in the league sits off opponents, invites them on and blocked more a lot more shots than any other team bar Augsburg. They have finished 12th and 9th in the table the last two seasons despite real bad (17th and 14th) territory numbers. The shot numbers are more positive as they climbed to about even in shots on target. The last 14 games Köln went on a tear, with a +15 SOT difference that would have been good enough for 5th in the league if they ran that over 34 games. One Big Imbalance Have we been praising the wrong fullback? Jonas Hector played for Germany in the Euros but his left side gets targeted to an extent no other side of the pitch in the Bundesliga gets targeted.
Nearly 600 more attacking completions came down Hector's side than the right side, manned by Olkowski or Sorenson most commonly. An average game sees 17 more completions on Hector's side in the Köln half and 12 in the Köln final 3rd where the trend goes even more extreme up to 1.5x the right. And it's not just volume. No other team has a larger gap in completion % between their left and right sides than Köln (74% on their left and 68% down the right). My next thought was maybe the build-up in the opposition half happens on Hector's side, so we can't blame him for the onslaught that starts higher up the pitch. I checked that, and sadly, no, that does not get our man Jonas off the hook. It's basically even as far as build-up is concerned and the opposite side even sees a bit more volume with a slightly higher completion %. I looked at it a couple other ways: completion % on passes that started and stayed wide, which presumably would isolate fullbacks defensive contributions a little more. Köln still had the highest disparity between left and right. I then looked at how often the opposition passed to the left compared to the right from the center. Bayern were far and away first interestingly, but Köln were right there in 3rd. They had a large gap in key pass origin as well, with more coming from their left side. The obvious explanation is Hector contributes a lot more on offense and that's true, he had 1.8 key passes per game while Olkowski was at 0.2. Hector's average pass attempt originated 5 yards closer to goal than Olkowski and he made 13 more passes per 90. Köln as a whole had 13% more attacking completions on the left than right but essentially no difference in completion % or key pass origin. So while Hector was fantastic with the ball and Olkowski was horrible, there probably was no team with a bigger mismatch in terms of offensive talent there, I'm not sure Hector deserves all the praise he was given (by me included). The massive disparity in how Köln get attacked cannot be what they want, every team knows it and every team exploits it. Hector needs more defensive support, it's too easy right now. Key Passing Connection Risse-Modeste. Risse played as a mix of right back, wingback and right wing, but his protection on the right when playing a more advanced role could be another reason teams relentlessly attacked the left side. With the ball Risse to Modeste is the play you should have in mind when you think of Köln. No connection created more shots: 24 and no other non-GK connection gained more yardage for their team toward goal.
The average Risse-Modeste sweep moved Köln 26 yards closer toward goal. Those 24 key passes were a big step for Modeste, who was near the elite in Europe by taking over 3 shots per game inside the box. Good Season: Left side gets a little more support and the center backs who had to work so hard facing the 3rd most passes into the box get a breather. The best crossing team in the league keeps on clicking as Modeste keeps heading them in, comfortable mid-table finish. Bad Season: The territory deficit gets steeper with the midfield weakened after Vogt and Gerhardt's departure. Defenders don't cope as well and the goals match up with one of league's worst territory numbers and we see relegation. This feels more likely than the good season scenario. Augsburg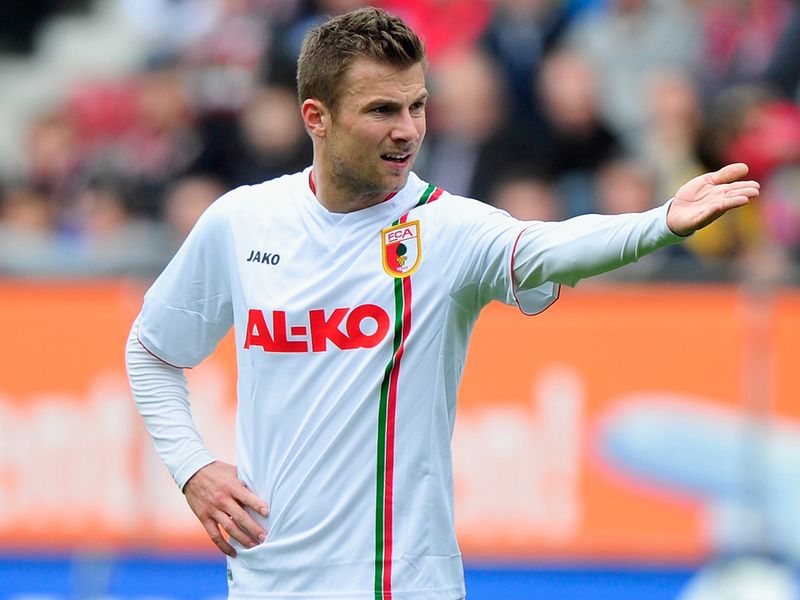 In: Takashi Umami 1.5m (Gamba Osaka), Marvin Friedrich 1m (Schalke), Gojko Kacar Free (Hamburg) Out: Jeong-Ho Hong to China for 6 mil! That Asian player bonus. Ragnar Klavan, Tobias Werner One Standout Offensive Number
Marcus Weinzierl their old coach is off to Schalke but he leaves behind a team that struggled to get the ball extremely deep without a cross. Fullbacks wide was a distinctive tic of Weinzierl's reign. The crossing stat is really interesting because outside the last 15 yards, Augsburg were fine at creating shots from open play passes and relied on crosses less than average. They just couldn't find a way to actually attempt passes into the most dangerous area of the pitch:
It's weird because for passes ending from 15-30 yards Augsburg attempted more than Schalke/Wolfsburg and 10 other teams. It will be up to new coach Dirk Schuster, in from Darmstadt, to fix this. I suspect his first order of business will be working set pieces because 1: Darmstadt were amazing at them (47% of shots from set pieces and led league with 16 goals) and 2: his opening statement said he wanted to toughen up Augsburg which somehow is conflated with set pieces in my mind. Roberto Martinez I think we can all agree is the ultimate soft manager and his teams simply don't practice set pieces. Augsburg have 4 players who stand out as quality with the ball in Paul Verhaegh at fullback, Daniel Baier in midfield, and Ja-Cheol Koo and Raul Bobadilla as attackers. Last year they were all heavily involved in their attacking play and more of the same is the recipe this year as the fall-off is one of the steepest in the league. Koo had the shortest key passes in the league, in general that's a great thing but when we see how Augsburg never try the most dangerous passes maybe there is also a case that he's too conservative?
Good Season: Augsburg actually attempt more passes closer to goal and add some of the Schuster steel on set pieces to sneak up on 50 goals while their league-leading block rate on defense and Marwin Hitz's great goalkeeping season (according to Analytics Consultant Thom Lawrence or deepxg) was not just another unrepeatable oasis in the desert of goalkeeping statistics and the defense makes a decent showing. Bad Season: The oasis evaporates, more shots get through without Ragnar Klavan because any team with someone named Ragnar Klavan will always block a huge amount of shots. Defense concedes 60+, Schuster's Millions of Long Balls doesn't differentiate their good from bad-handlers finely enough and Augsburg go down. Frankfurt Let's play the famous game I like to call Alex Meier or Arturo Vidal. You assign which average pass position is which player and winner gets to not watch Frankfurt-Augsburg this year.
No matter which one you chose, the only loser here is Frankfurt. Alex Meier is the one on the left side but when your leading goal scorer and striker is playing his passes from where midfielders on other teams do, you are in serious trouble. Only Seferovic and Castaignos were further forward than Meier. Frankfurt were basically a par team in territory and shots 2 seasons ago but both trended badly last year and picked up speed in the wrong direction as the year ended. Season-long Frankfurt were 15th in SOT rate and over the final 15 games they were dead last. Decent territory numbers and fantastic shot locations helped them avoid relegation but there were serious warning signs. One Big Strength
3rd closest average shot distance in the league. One Big Weakness The opposite, 4th best average shot distance allowed. Stefan Reinartz retired and created a passing stat that I suspect would have rated him by far the best player on Frankfurt last season. If you've made it this far looking for more in-depth Frankfurt content I apologize. I tried, I really did, but Frankfurt are incredibly boring. Just a bad team in many, many ways but not horrible at anything. Alex Meier heads in a lot of goals. There you go.