Last years champions are struggling this season, a 1-0 loss to Bournemouth saw them fall to 14th in the table and more worryingly it's not just bad luck. Some regression was expected, but they have played well below bookies expectations. The obvious problem is shot volume: this year they have the 16th most shots and shots on target after being 7th and 6th last year. They allowed the 6th fewest SOT last year, this year they are 16th. The problem isn't possession or a lower completion%, both of those metrics have slight rises, so it must have something to do with the quality of those passes. That's what we will do today, take a dive into what has changed so drastically when Leicester has the ball. Pace and Tempo With the Ball The first problem is their pace at getting shots. If you have 45% possession and are getting shots at an average tempo when in possession, you are going to be below average at shot volume. That is Leicester this year.
Last year they were lightning fast at transitioning from having the ball to getting a shot, which provided strong shot volumes.
This is because they don't get the ball into the final third nearly as often as last year. Last year they were tied for the highest % of passes ending in the final third, this year they are middle of the pack. So we have a few questions to answer:
Why can't they get the ball forward?
Where is the ball going instead?
Is it a personnel issue?
Is it fixable or simply opponents taking an entire season to "catch on" and now simply deny Leicester enormous space to pour forward into (except Pep)?
First let's look at where Leicester are passing towards from different zones on the pitch. (attacking left to right, which really I feel ashamed of having such a low opinion of StatsBomb readers that I even thought about putting in this parenthetical)
We can clearly see a pretty large shift from last year to this in their own half and especially the "edge" area as I like to call it, right over the halfway line. This is backed up in pitch-wide passing length stats, again no one has changed more. Leicester are playing much shorter passes this season.
So let's look at how these changes are affecting the team, starting up front. Mahrez Last year Mahrez passes in the attacking zones led to key passes quickly about 50% more often than they do this year. The stat about him not completing a pass to Vardy for nearly 2 months went viral and it does point out a stark shift. Here is the sum total of those completions (leading into the Man City game).
compared to last year:
Plenty of those passes toward Vardy were played from more inside and central positions not way out on the wing. This is the area that has seen the largest change in passing types for Mahrez:
While a right-winger turning insular is not an isolated example across the globe this year in politics and sport, Mahrez's turn has not resulted in success like many of the others. What are the reasons for this? While you may instantly jump to Vladimir Putin as the man behind this, I say look past the obvious answer and suspect more packed defenses. More porous defenses=more forward passes to Vardy, right? Vardy Last year 6.3% of Mahrez's passes were forward completions to Vardy, this season that is a measly 1.7%. This is a large contributor to Vardy's collapsing shot rate but not the complete story. Vardy's shot rate has halved this season, while his deep reception rate (passes completed to him within 30 yards of goal) has dropped by 25%. That's a large drop but obviously not enough to explain the full shot drop. Helping to explain more of that is his rate of passes starting within 30 yards of goal has actually increased 11% despite getting less service there. This suggests shooting is a less appealing option from similar positions than it was last year and sure enough the block rate on his shots has surged as well. Last year his shots were blocked 19% of the time (4th lowest among top 50 shooters), this year they are blocked 27% of the time (20th most among top 50 shooters, of which he's barely inside after being 3rd last season). So Vardy's Mahrez pipeline has been completely shut off without much protest and while the new pipelines are still under review and yet to be built he is getting fewer dangerous touches, passing more instead of shooting when he does get deep, and getting blocked more when he does shoot. All of this points directly to more defenders in his way. So is this a final ball problem where opponents have more men back or are Leicester's legendary lightning counters just not getting started? Let's look at how Mahrez is getting fed.
He is coming into his own half to get the ball significantly more and when he is getting the ball in attacking areas, it's coming from backwards passes a ton more this year. This implies a set D and established possession instead of Mahrez in space with pace. Another problem is last year Leicester had two midfielders who could push the ball forwards, now they have just one. Honing in on those forward (0-10 yard closer to goal) passes into attacking zones we find that Drinkwater, Kante, and Simpson all completed 30+ of these type passes to Mahrez last year. This year Drinkwater and Simpson are on similar pace but no one else has completed more than 4. He had 3 sources of the ball in attack last season and this year he has just 2. When you aren't getting much from your left winger, you are playing two strikers, and your fullbacks rarely get forward, any limitation on Mahrez will ripple out throughout the entire team. So we know a lot more about what the problem is up front now. Vardy isn't getting the ball deep enough because Mahrez can't find him, he's being forced to pass instead of shoot and his shots are being blocked more, Mahrez is having to come back to get the ball more, isn't getting it while it's progressing towards goal, and only has 2 sources of passes in danger zones. The loss of Kante is part of the problem. Is the rest just opponents adjusting? Surely it's not that simple right? Let's look one more level back to see if we can spy any more differences in their own-half buildup. If opponents really were not caught out this year and were allowing them calm buildup, we might see significantly different passing patterns. Do we? Yes.
Last year they played a lot more passes that moved the team 10+ yards closer to goal and a lot fewer backwards passes. They also were a lot more successful at completing aggressive passes. Kante is a big part of that, he played 35% of his build-up passes 10+ yards forward compared to the King/Amartey duo this year at only 25%. But he's not all of it, Fuchs, Drinkwater and Simpsons were all more aggressive last season.  To check if this was defense-influenced and not sort of self-inflicted, I looked at how often opponents made a tackle or INT in Leicester's half last year compared to this. If opponents really are sitting off more, we should see it here.
And we do see it here. Teams are attempting to win the ball a lot less this year in Leicester's half than they were last season and limiting Leicester's long forward balls. Leicester, lacking a strong companion for Drinkwater, have passed backwards a lot more and haven't really figured out a Plan B. They aren't able to easily get the ball forward or play a possession game and that's what they need to be able to do now. Their completion %'s are actually higher in their own half and just past midfield this season but fall in the money areas in front of goal. It really might have been as simple as "Don't press Leicester". The league might have finally figured it out and N'Golo Kante isn't walking through that door. So What Can Leicester Do To Jumpstart the Attack?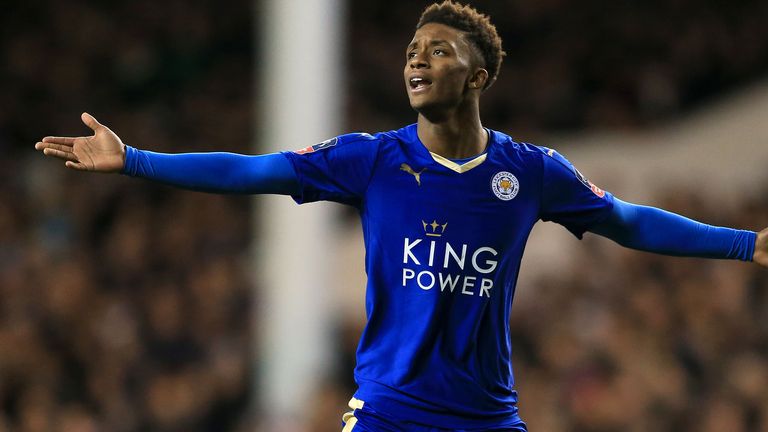 The free-flowing attack of last year is probably not coming back. Teams simply won't allow it to that extent. So what are some steps Leicester can take to play better in a different way?
Hope Nampalys Mendy comes back as a more dynamic playmaker than King or Amartey. We know King and Amartey aren't cutting it right now and unless you can convince one of them (almost surely King) to start providing more in attack, Mendy should get plugged back in immediately. If he doesn't come back and fit, drill it into King that we want you to complete a few passes a game to Mahrez and Gray (or whoever is out left) in places they are one pass away from a shot.
Give Demarai Gray a run on the left. Leicester understandably play 20% more down the right than the left and there is lots of room to improve over Albrighton and co. Albrighton has completed under 50% of his passes in the final 45 yards over the past 2 seasons while taking just over 1 shot per 90 and adding just over a key pass per 90. Gray has 2.9 shots per 90 and 1.4 KP's per 90 over his career (mainly in the Championship for Birmingham) and in his ~400 minutes over the past two seasons has at least flashed abilities that other attacking players for Leicester lack. He completes passes up the field at a rate basically no other Leicester attacker player has and gets involved a ton more than the other options. It's a small sample, but very promising. Let the kid show if he has what it takes. 
Figure out what you are doing with Slimani, Okazaki or whoever else plays alongside Vardy. Something we didn't get to in this piece but is a large worry is Leicester's opponents are playing much, much shorter passes in attacking areas this year and Leicester are intercepting/tackling a lot less. Kante's loss is probably greater on that side of the ball, so maybe another midfielder? If they play Amartey as a 3rd man in the middle, King and Drinkwater can push higher and really Slimani is just kind of wandering around a lot anyway (sub-30 passes per game, no defensive contribution). The league has adjusted and you don't have Kante, it's time to get a bit more creative.
Anyway, that's what my stern message would be to the manager who masterminded the single most impressive accomplishment possibly in sports history. So listen up Claudio, it's time to get serious. Hope you enjoyed!