Two players today from the continent as we continue our holiday cheer in the StatsBomb Recommends series. The youngster is promising Monaco midfielder Thomas Lemar while the one past the 30-mark is Gladbach attacker Raffael. We begin with the veteran: Raffael
Since the beginning of last season, no Bundesliga team has a higher passing % within 25 yards of opposing goal than Gladbach's 43.7%.
A significant chunk of this credit deserves to go to their 30-year-old Brazilian striker, Raffael, who has completed 53% of his passes under these conditions.
His low-ish shot totals and strong but unspectacular counting stats (.43 G/90 and .23 A/90 over past 3 seasons) make him easy to miss if you are looking for an archetypical striker. Those numbers don't fully capture the benefit he brings to your team through his passing presence. This passing ability allows Gladbach to extend possessions and be more selective in the type of shots they take, which helped them convert at a high rate last season as they reached the Champions League and has helped them back in the top 4 after a disastrous start this season. In Select Company His wider skill set puts him in some very exclusive groups: -Of the top 20 goal scorers in the Bundesliga, only Mkhitaryan, Reus, and Müller have more key passes/90 than Raffael. -Only Gotze and Kagawa have topped Raffael in passing accuracy from an advanced role in the past two seasons and he has played further up the the field than both of those while putting up slightly higher goal and assist rates. -He doesn't just dink balls around without taking risks, when you account for difficulty of pass he only trailed Bayern players last season and Bayern players + Kagawa this year in passer rating. Brazil's Next Striker? Raffael is 30 so is unlikely to draw a big money move in his club career but hopefully he still has worlds to conquer with the Brazilian national team. Dunga has tried Diego Tardelli, Robinho, Roberto Firmino, and Ricardo Oliveira up front for Brazil who all have strong marks against them in various categories. Raffael is a standout player in arguably the world's best league and has a skill set that seems as if it could fit in nicely orbiting the supermassive Neymar at the center of the Brazil attack. Please, Dunga, give Raffael a chance. He's earned it.
Thomas Lemar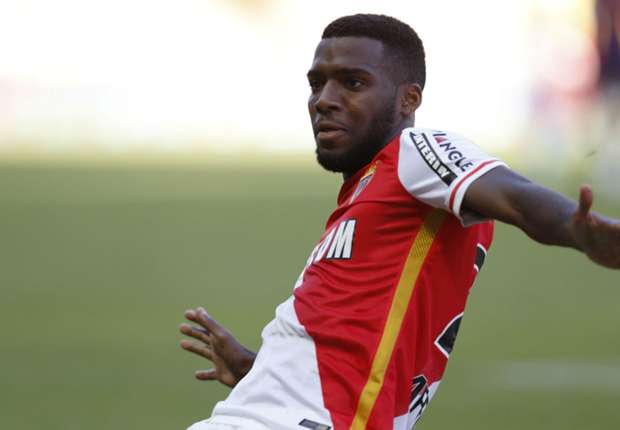 I mentioned him in my Ligue 1 Preview as a player Monaco were wise to grab from Caen but one I didn't know would see many minutes this year. It turned out Monaco basically completely overhauled their players and playing style and Lemar has forced his way into the side with strong performances. An injury has kept his minute total low but he's been a consistent starter when healthy. In a Monaco side with more talented players around him and less of a wild forward crash, Lemar is showing an ability to pass the ball around at a high level. Last year, despite an ugly completion percentage he was already miles above his Caen teammates as far as Passer Rating (a simple method to adjust passes for likelihood of completion). This year he's been able to play a less breakneck role (passes end 48.5 yards from goal on average this year after 44.5 yards) alongside better teammates and we've seen the passing stats skyrocket. The passing percentage is up into the mid-80s and the Passer Rating is well above 100, which is pretty rare and an indication of strong playmaker. Last years attackers with a passer rating above 1 in Ligue 1 were mostly big names: Boufal, Gourcoff, Bernardo Silva, Maurice-Belay, Andre Ayew, Payet, Lucas Moura and Pastore.
His key pass numbers have dropped slightly this year but his shots have increased. He's gone from 4.8 per 90 total when you combine the two to a still strong 3.9 per 90 in his more calm role.
Now this all comes with limited minutes in a weak league, but the numbers are solid, the eye test indicates he has the athleticism to make the jump and his manager has called him a key player for Monaco. The fact Monaco bought him is also a positive sign, they are acting on more information than we have and a a successful club buying someone and playing them should generally be a checkmark in favor of a player. This 20-year old might have a wide range of outcomes for his career but if I was a team like Hamburg or Newcastle, I'd want to grab him now if I could for around 12 million and see if he can reach his 60th percentile outcome while on my books. He has the potential to turn into a very helpful player.